<!div id="bookinfo">

NEWS
Fresh from the brain of Elizabeth: Zestful Writing
Left Field won a Goldie at the herstoric GCLS Conference in New Orleans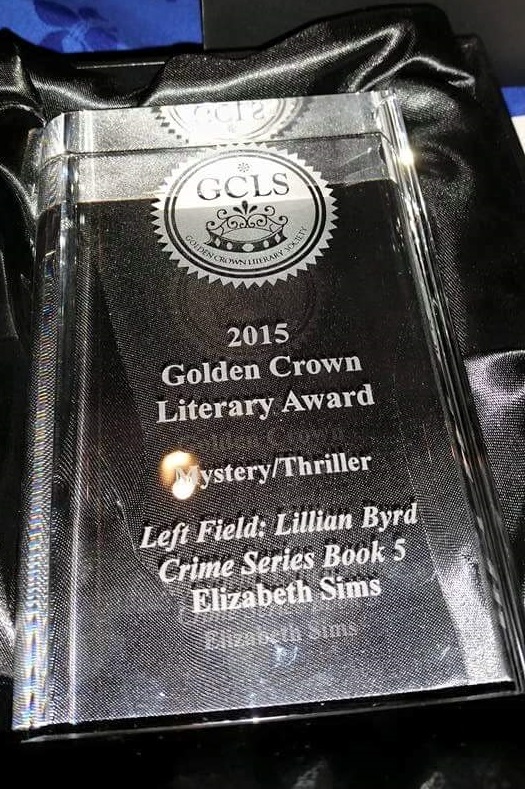 Florida Heritage Book Festival and Writer's Conference
September 24-26, 2015 St. Augustine, Florida
Elizabeth will lead a critique group on Thursday and present 'Fearless Writing' on Friday.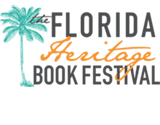 Elizabeth is a contributing editor at
Writer's Digest Magazine.


Pick up the September 2015 issue featuring Elizabeth's article
"What Real Revision Looks Like"
A complete list of Elizabeth's articles can be found on the
articles & stories page.
<!B>Watch Elizabeth in 'Conversations at the Bar'
from Cocktail Hour Productions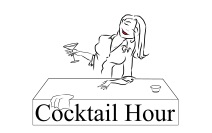 <!B>Elizabeth's LILLIAN BYRD SERIES
is reviewed by Sue Hardesty of the American Library Association GLBT Round Table


Lesbian Sleuths #2: Ten Mystery/Romance Series
<!B>Now available
from Writer's Digest Books<!/B>
Creating Characters
The Complete Guide to Populating Your Fiction
Elizabeth Sims, contributor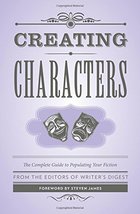 <!img src=images/facebook_logo.png width=21 height=21 ALIGN=TOP> <!iframe src="http://www.facebook.com/plugins/likebox.php?href=http%3A%2F%2Fwww.facebook.com%2FElizabeth.Sims.Author&width=200&colorscheme=light&show_faces=false&border_color&stream=false&header=false&height=70" scrolling="no" frameborder="0" style="border:none; overflow:hidden; width:178px; height:70px;" allowTransparency="true"><!/iframe>


<!img src=images/facebook_logo.png width=21 height=21 ALIGN=TOP>



Custom Coaching and Editing
If you're an aspiring author, you understand how important it is to have a mentor: a seasoned professional in your corner who can spot trouble, help you through it, and cheer you on. Services, Rates, and Raves
Speaking and Workshops
Elizabeth gives energetic, information-packed talks and workshops--and everybody has some fun along the way. Information and Raves
Lillian Byrd Is Back!
Left Field: Lillian Byrd Crime Novel #5
Now available on Kindle and in paperback.
Left Field

Lillian Byrd Crime Novel #5

by Elizabeth Sims
Published 2014 by Spruce Park Press

"By far the best detective of the bunch." —Just Out


Lillian Byrd has been searching her soul after the gut-wrenching experience of killing someone in self-defense. Scrabbling to make ends meet, she takes a job as a quasi detective, solving life's little mysteries for a pair of eccentric women in one of Detroit's last prestigious neighborhoods. When she spots a corpse on the next-door lawn, she jumps back into honest work as an investigative journalist.

Her friend Mercedes reveals that the dead woman, Abby Rawson, played on a women's softball team she manages and pressures Lillian into taking her spot. Softball turns to hardball when Lillian not only plunges into a love affair with the team's sought-after pitcher but also goes undercover as an exterminator, a squatter, and a charity worker to investigate Abby's death and the corrupt medical organization she worked for. No one on the team is above suspicion, and as they get closer to snagging the coveted championship title—and Lillian gets closer to discovering the dark truth behind Abby's murder—she fights to keep her new love in her life and literally save her own.

Filled with Lillian Byrd's trademark snark, nail-biting twists and turns, and a thrilling climax, Left Field scores a grand slam that'll leave readers cheering in the stands.

Left Field FREE SAMPLE



Lillian's been in trouble before! Introducing new paperback editions:

Holy Hell
FREE SAMPLE


Lillian Byrd is a small-time reporter with a flair for making big-time mistakes—like getting fired for fending off the boss's son with an X-Acto knife and breaking up with her girlfriend for no good reason—so her investigation into the disappearances of women around the Detroit area might not be the best idea... MORE

"Read it. You'll love it. You'll want more." —Liberty Press

"Except for all the swearing, it's a pretty good book." —Elizabeth's Mom

<! ?php $area="menu"; $width="200"; $book="HH"; include "fullheaderandfooter.php"; ?>

Damn Straight
FREE SAMPLE


After her narrow brush with death in Holy Hell, you'd think Lillian Byrd would have learned to keep her head down, but when a friend in crisis calls from California, Lillian jumps on a plane and wings her way from Detroit to Palm Springs—and danger. It's the long weekend of the Dinah Shore golf tournament... MORE

Lambda Literary Award Winner

"A sassy, smart, ultimately thoughtful thriller." —Booklist

<! ?php $area="menu"; $width="200"; $book="DS"; include "fullheaderandfooter.php"; ?>

Lucky Stiff
FREE SAMPLE


Once again Lillian Byrd is down on her luck, strumming her mandolin for spare quarters alongside Blind Lonnie, Detroit's resident blues guitarist. But a chance encounter with her childhood friend Duane is about to completely turn her life on its heels. When Lillian and Duane put their stories together, the past erupts into a wild enigma. MORE

"A flawless narrative... A nifty little puzzle solved by a most intriguing female detective." —Library Journal

<! ?php $area="menu"; $width="200"; $book="LS"; include "fullheaderandfooter.php"; ?>

Easy Street
FREE SAMPLE


Her old Caprice is convulsing through the last of its death throes, her pet rabbit and constant companion Todd ails, and as usual Lillian Byrd is flat broke. For a few extra bucks she agrees to help an old friend renovate her house, but as you know, nothing ever goes smoothly in the life of Lillian Byrd. MORE

"Lillian is a true original." —Kirkus Reviews

<! ?php $area="menu"; $width="200"; $book="ES"; include "fullheaderandfooter.php"; ?>
The Rita Farmer Mysteries NOW in paperback!





Aspiring actress and single mom Rita Farmer has gone from struggling to find work to downright desperate. If she doesn't land a paying job soon—horror movie, soap commercial, anything—she's afraid her ex-husband will use her dire financial straits to take away Petey, her cherished four-year-old son. MORE


"Sims' wry commentary on life in Hollywood is dead-on." —Publishers Weekly

<! ?php $area="menu"; $width="200"; $book="TA"; include "fullheaderandfooter.php"; ?>





Studying to be a lawyer, Rita takes dreggy acting jobs to pay the bills. Dressed in police uniform as an extra on a movie shoot, she wanders into a rough part of town only to be pulled into a vicious assault. MORE


"Sims, outdoes herself... an intelligent thriller... comes together seamlessly... sure to appeal to fans of complex plots and strong women." —Jay Strafford, Richmond Times-Dispatch - Book Bag





Can actress Rita Farmer use her Hollywood skills to change her identity and set a trap for the bad guys in the woods?

The action moves from Los Angeles to Washington's Olympic Peninsula in the third Rita Farmer Mystery. When Rita's sister Gina goes missing Rita has no choice but to follow. Foul weather meets foul play as Rita and her stalwart friends risk their lives for the sake of truth—and love. MORE


"Like George, you just have to love Rita, who's a great mom, a devoted sister and a helluva actress, even if Spielberg hasn't cast her yet. Deftly plotted." —Kirkus Reviews

You've Got a Book in You is Elizabeth's wildly popular book on writing.

<!A class="onpaper" HREF=javascript:popUp("http://buybox.amazon.com/exec/obidos/redirect?tag=elizabethsims-20&link_code=qcb&creative=23424&camp=2025&path=/dt/assoc/tg/aa/xml/assoc/-/1599635542/elizabethsims-20/ref%3Dac_bb6_","_amazon")><!Easy Street><! FREE SAMPLE><!/A>

Writing a book is fun and easy--yes, FUN AND EASY--but it may not always feel that way. How do you find the time to write? How do you keep momentum? How do you deal with the horror of showing anyone a single sentence of your work-in-progress? The answers remain fun and easy, and author Elizabeth Sims will take your hand, dispel your worries, and show you how it's done in this stress-free guide to accomplishing your dream of writing your book. MORE


"If you're searching for the spark of inspiration to get started writing a book, and the nourishment to sustain you to THE END, Sims' book will show you how to find it in yourself." —Hallie Ephron, award-winning author.

VIDEO: Elizabeth Introduces You've Got a Book in You

* IMPORTANT TO KNOW:
You don't need a Kindle to buy and read Kindle books!
Amazon offers FREE Kindle reading apps - for your computer, tablet and phone.
Amazon Free Kindle Downloads
Printable Page <!script language="JavaScript" type="text/javascript" src = 'http://ajax.googleapis.com/ajax/libs/jquery/1.4.4/jquery.min.js'><!/script>